Xhorse Toyota 8A Non-Smart Key All Keys Lost Adapter No Disassembly for VVDI2/VVDI, Mini OBD Tool, Xhorse Key Tool Max Pro and Key Tool Plus
For the Toyota 8A H Chip (non-smart) all keys lost key programmer from the year 2014 to 2019 via OBD without disassembling the Immobilizer box
Compatible with:
This is for standard 8A keys, not smart key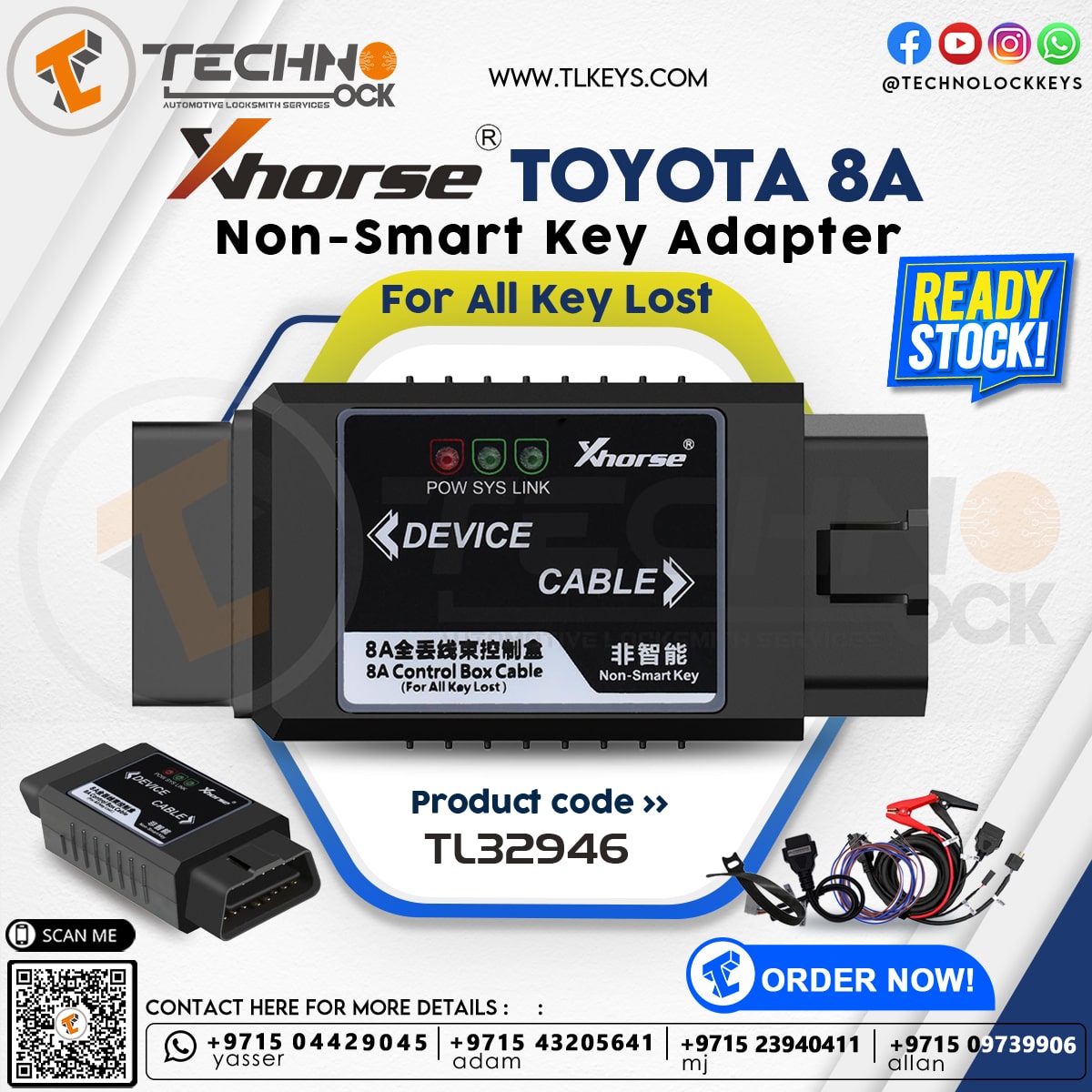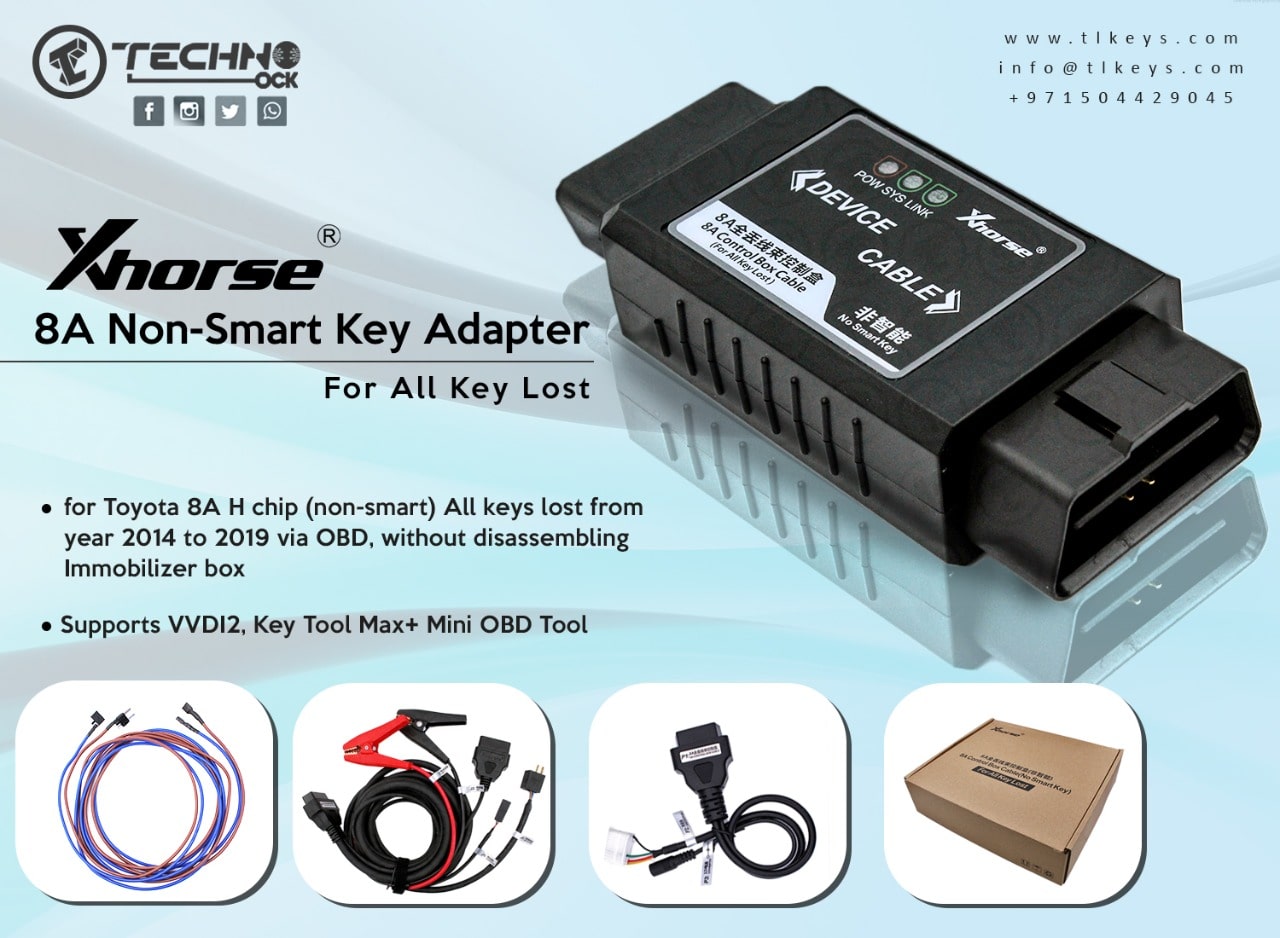 Xhorse Toyota 8A Control Box Cable Supported Car Models:
Toyota Levin
Toyota Corolla
Toyota Rav4
Toyota Prado
Toyota Land Cruiser
Toyota Camry
Toyota Highlander
Toyota Reiz
Toyota Siena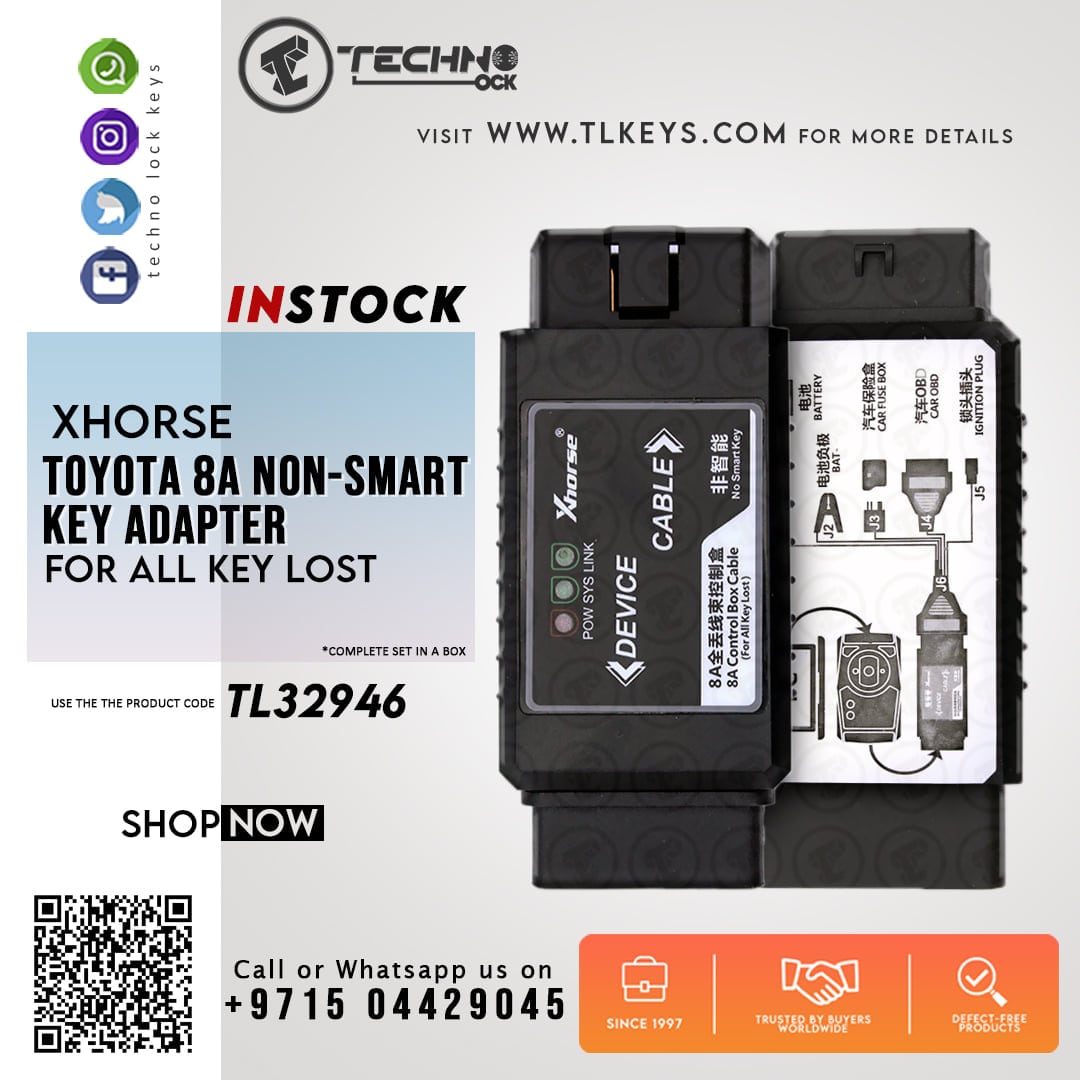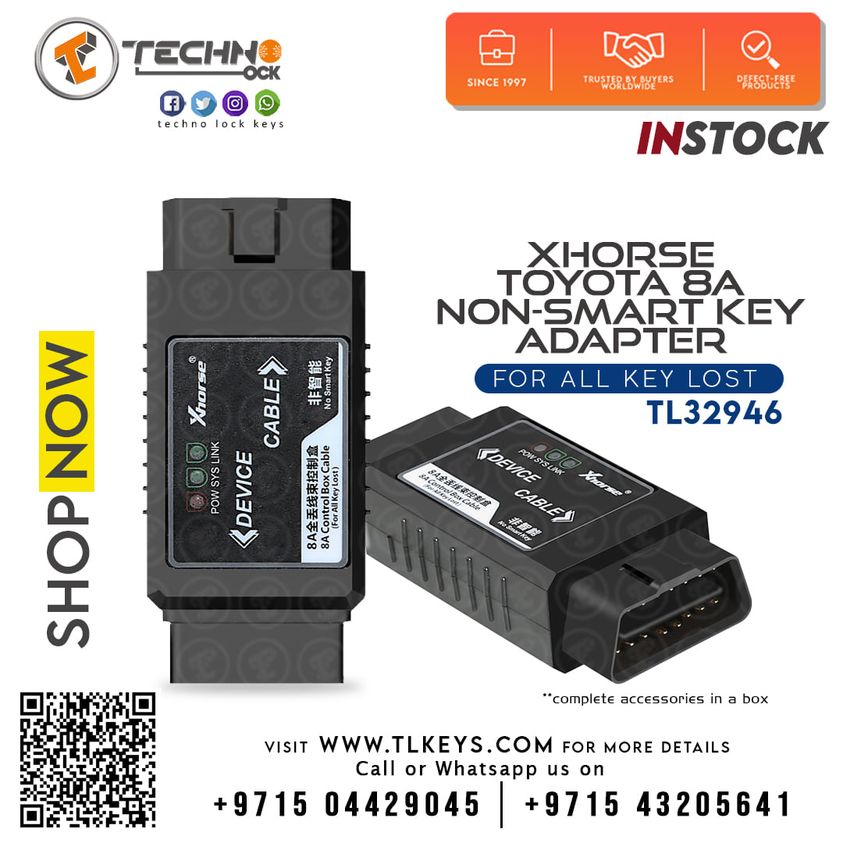 Toyota 8A Adapter FAQs
Q: Even without VVDI2, can I use it with the mini OBD tool?
A: Yes. With Xhorse Key Tool Max+ Mini OBD.
Q: Does it require a token or authorization?
A: No, it does not require any token or license.
Q: What years would this work on?
A: It works every year.
Q: Toyota Aygo 2015 System H all keys lost. Does this computer program the chip?
A: Yes, it is.
Q: Hilux? Hiace?
A: No problem Toyota Hiace and Hilux (IMMO box 2015-2019)
Q: Proximity or just key?
A: No Smart Key. Just the Key.
Q: Which versions of IMMO H modules does it support?
A: IMMO Box F3-F4-K6-S6
Q: I thought it was for OBD.
A: If it's for Obd2, yesterday I did it in bench but it's by OBD2 via antenna without removing any screws from the board.
Q: Is this used to program Toyota H box IMMO on the bench?
A: Not on DYNO on the car via OBD no more need to disassemble dash VVDI2 new software + Keytool max you can read IMMO data and make keys directly on IMMO or another option is Baraccuda and Tango on DYNO.
This assembly must be on the car as there is a connection to the fuse box and the OBD and IGN coil.
Q: What tool does this connector use to program?
A: VVDI2 or VVDI Key Tool Max + Mini OBD Tool.
Q: Possible to program the Land Cruiser smart key after 2016?
A: Yes, it will.
Q: Possible to use an 8A adapter with a VVDI2 base version? or full version only?
A: You can use the 8A adapter with all versions of VVDI2.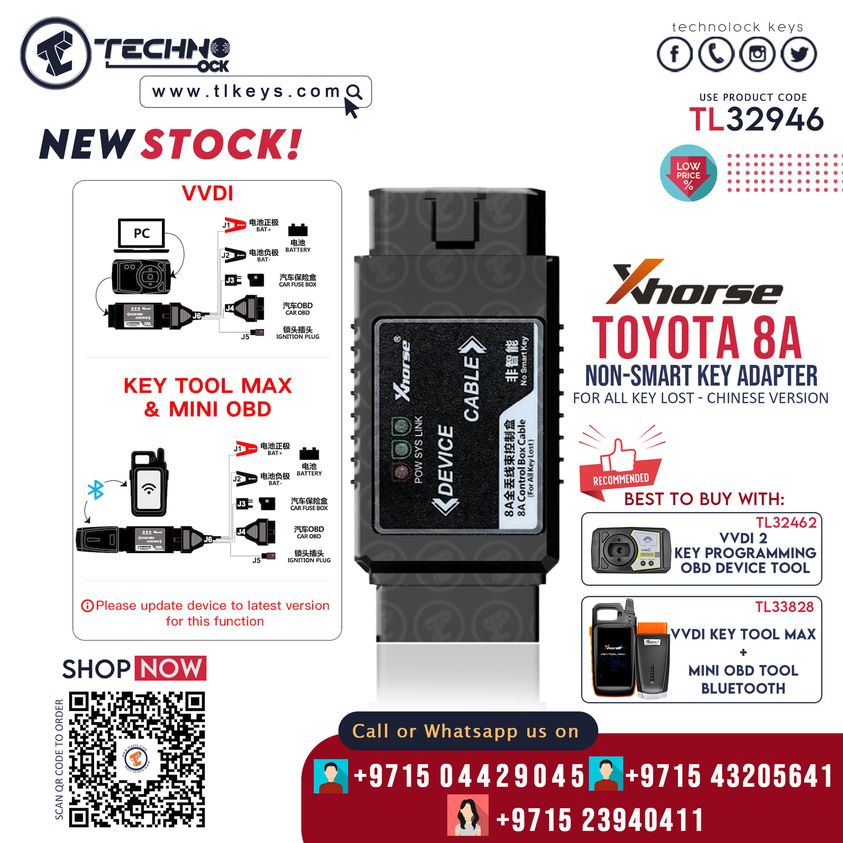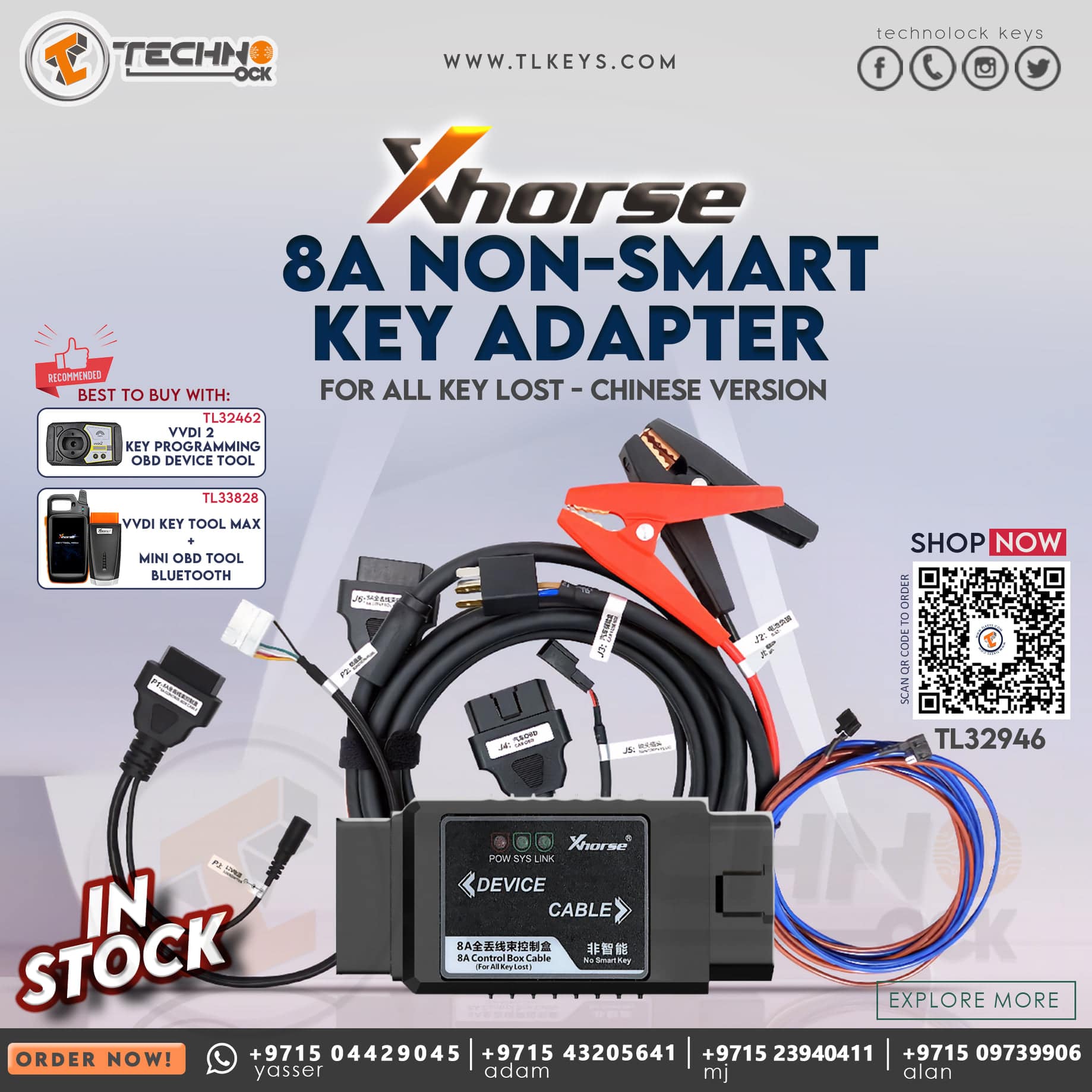 Be the first to review: "Xhorse Toyota 8A Non-Smart Key Adapter For All Key Lost"
contact us
Address :Sharjah - Industrial No. 5, behind Maliah Road., shop No. 8, Property of Ali Nasir Mohamed Suleiman
---